So recently I have had some people ask me about how I run my classroom with alternative seating. It has been a gradual transition that has been going on for about 4 years now. My first year teaching I went to the Oklahoma Kindergarten Conference, and listened to Kim Adsit talk about how she does alternative seating. It has taken me a couple of years to get it down to a science! My first step was giving my students a bag of supplies.
Each of my kids has a carpet bag. In each of their bags is their clipboard (in my opinion the most important tool that they have!) their crayon box and a dry erase eraser. They also have a dry erase pocket that has an activity that they can do when they are done early or as their morning work.
I know that how they can access their tools can be done a couple different ways. This is actually the way I started handling their tools, and each year I have tried something different.
This is the ONLY picture I can find, and it is not front facing, SORRY! But each kiddo is specified a color. In the top drawer they put their crayon box. In the second drawer they kept their clipboards. In the third drawer they kept their glue sticks, markers and scissors. This was an easy way for them to keep track of their supplies! This puts all their supplies out and in one place. I also broke up the sterilite containers and had them placed around the room, so when we were getting supplies they were not all focused in one location.
Each of my kiddos has a cubby where they put their coat and backpacks. Right now they keep their crayon box in their cubbies too. When they need scissors/glue/erasers/pencils they go to the community supplies and get whatever it is they need.
In my classroom we have different option of where my kiddos can sit! There are two different times of the day, where my kids have options. 1) Whole Group teaching. I am in front of the SmartBoard and they are sitting on the carpet. If we are working on an assignment together, they have their clipboards. 2) Individual Work/Center Time: This is when the kids can choose where to sit. This is where the fun starts!!
Scoop Chairs. I bought mine at Walmart, but I have heard they are at Aldis this week. Or you can order from Amazon. The kids take their clipboard and can rock anywhere around the room.
My Bathtub. I have taken the pillows out of the tub. But they still LOVE working in it. Right now only one kiddo is allowed in there at a time. But eventually I will allow two in!
Crate Seats. I have these peppered across the room. They are at my kidney table, computer table and student table. They also are at random places where the kids have drug them.
The famous Picnic Table. Officer Hofficer made this for my classroom two summers ago. It is perfect for little Kindergarten Booties. And behind the table, you can see the computer table.
I have had a lot of people asking me how I manage the seating. I will add pictures tomorrow but here is a real quick run down!
Picking the Seats
My carpet has four rows of numbers, each a different color.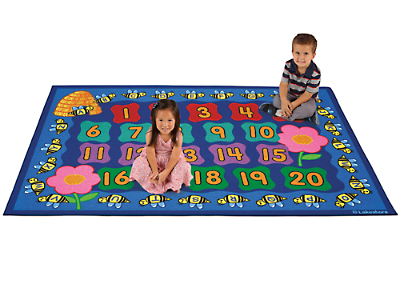 I call my students to pick their seats based off which row is doing what they are supposed to. This way my kids are sitting quietly. By now, I know who is going to pick what option. They are pretty set in their ways. I know which girls are going to sit at my table, which boys are going to grab the rockers. But this way it allows the kids to choose which ever they want (even if they pick the same thing)
We also have a rule that, you may not grab a chair, or get in the bathtub until you have all your supplies and are ready to learn.
Storage:
This one I will have to add a picture to. I have been so blessed with a bathtub for my classroom. It once belonged to my mother when she taught, but that is my storage system. Ball Chairs, Bean Bags and Scoop chairs all get thrown into the tub.
Well I am off to bed! I would love to answer any questions you might have about how we do Alternative Seating in our classroom!