Merry Christmas to my Bloggy Friends!!!
I participated in the Holly Bloggy Christmas this year! I had SO much fun. I was paired with two of the cutest funniest bloggers around!
The theme this year was "A few of my favorite things". My partner that I sent to was Michelle from 3am Teacher!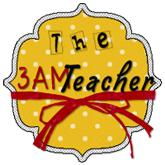 I had so much fun with her as my partner! This was what I sent her.
First off those who know me in real life, know I LOVE romance novels! I can read about two in a day! I also love CHOCOLATE! But what teacher woman doesn't, right?
I also am a little obsessive about towels in my house. They HAVE to match the holiday, in fact my penguins and snowmen have already gone up. The penguin hand towel, is a double favorite thing, because I love penguins too!
Then I also found the cutest little bee to hold hanitizer. It is a magnet people! The last two years my classroom has been in owls and bees, so a perfect combination here. Then it was all placed nicely in a cup. Have you used one of these cups? If not run, don't walk, to your nearest Walmart and get one RIGHT NOW! My kids know that I don't go anywhere with out it!
Go check out Michelles blog. She has some amazering clipart.
I got my package from Krissy Hutten from Ms. Hutton's Buttens.
I stalked my front porch for days, and the day I forgot, Hubby came home for dinner and said "What's this" *squeal*
She wrote me a little love note, explaining all her gifts.
Kit-Kats, Hubby ate them already :( They are his faves too. A cute stamppy. I love love me some stamps.
Some lotion and Gumby and Pokey. My fave show when I was little was Gumby.
Then she sent me some CandyLand lipgloss, and my new friend Morty the Snowman. Isn't he presh
!
I just love Krissy! She has a fun little blog. Go check her out!
Well I am off to watch the hubster play Call of Duty! I PROMISE I will be back some time soon!